JZXR Horizontal Metal Detector Metal Detector Conveyor
Introduce:
Aluminum metal detector, metal detector for aluminum foil, Horizontal metal detector
Product Introduction
Horizontal Metal Detector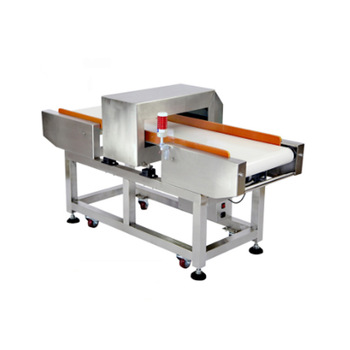 Advantages:
The core part is made using leading digital technology and imported chips,detection coil inside uses potting molding, with high precision detection, stable performance, strong resistance to external interference and so on.
Using a variety of frequency production according to the characteristics of the product, with product testing data storage function, which can store more than 100 kinds of product testing data, for a wide range.
Using intelligent recognition technology, self-learning and memory function, it can automatically recognize and memory product features, effectively eliminate the interference of various "product effect".
Easy and friendly user interface, the use of interactive touch screen, you can quickly and easily set the parameters by simple key-control interface; can detect a variety of products that contain different product signal (characteristic), the first set will be able to guarantee a high detection accuracy without re-adjustment setup.
The modular component replacement, quick and easy maintenance.
Comply with HACCP, GMP, FDA requirements.
shockproof waterproof, dustproof and waterproof in line with IP66 / IP-65 international certification, anti-vibration and noise absorption, can adapt to harsh working environment.
According to the user needs to use a variety of removal devices (such as flap, air blowing, putter, etc.) and portable, large packaging and load-bearing body design.
 Application: 
Food, detection of food, bread, baozi, mantou, dumplings, biscuits and other products of metal impurities and metallic foreign body and medicines, toys, clothing, footwear, chemicals, leather, knitting and other industry testing products or raw materials in the production process mixed Metal impurities. Such as: iron and non-ferromagnetic metal objects (iron,copper,aluminum, stainless steel and other non-ferrous metals can be detected), improve product safety factor, enhance product quality.
ApplicationApp Parts
Manufacturing
Customer Case
Certifications
Related products